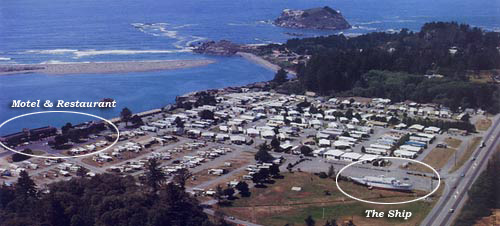 Our resort derives it's name from the luxury yacht that sits majestically at the front of the complex on beautiful coastal Highway 101 in Smith River, California.

Conveniently located between Crescent City, California and Brookings, Oregon, all our clean, comfortable accommodations have river and ocean views and are just steps from the water.

The Easter Lily Capital of the World, Smith River is also world famous for salmon and steelhead fishing and we host numerous fishing derbies throughout the year. For more information about this year's derby dates, please click on the 'Special Events' link above. If you have a boat, you can launch it from our private boat ramp. Fishing guide services are also available.
Our estuary is home to many types of shorebirds.

Pelicans come in each day and dive into the river for their meal while seagulls fly overhead and Canada geese, loons, egret and cormorant swim in the tranquil water.

At the end of the day, spectacular sunsets await you and you have a front row seat from the balcony or patio area of your room as mother nature displays her every-changing light show.

Bring your camera and capture some of the most beautiful scenery on the northern California coast.
In addition to our 50 unit motel complex, The Ship Ashore Resort includes a Camping & RV Park and a Restaurant & Lounge. Please explore the links above to learn more about the Ship Ashore Resort and surrounding area.
We look forward to having you as our guests and sharing with you the many natural wonders this beautiful area of the northern California/southern Oregon coast has to offer.
---



The Ship Ashore Resort
12370 Highway 101 North
Smith River, CA 95567
Motel: 707-487-3141
Fax: 707-487-7070
reservations@ship-ashore.com | events@ship-ashore.com
Ship Ashore Resort
Copyright © 2011. All rights reserved.